Discover the Outer Banks from all points....
Top 10 to do - In air, on land, at sea
The Outer Banks is a haven for the outdoors person and the vacationer alike! In the air you can jump off Jockey's Ridge and handglide, in the water, you can surf, paddle board, fish, and boat, and on land you can discover shopping, historic sites, and amazing places to eat!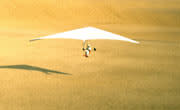 Jump off Jockey's Ridge and fly! A bucket list experience!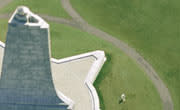 See were Flight began - and visit the Wright Brothers National Memorial.
Climb the tallest brick lighthouse in the US. at Cape Hatteras. The iconic black and white spiral landmark has served as a warning to generations of mariners. There are also a number of other lighthouses to visit; Ocracoke, Bodie Island, and Corolla Light.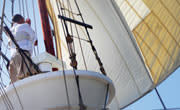 Experience what life at sea was like aboard Elizabeth II on Roanoke Island in Manteo. Those crossing the Atlantic would be the first English to attempt colonization in the new world. Charter a sunset cruise and really soak in the history!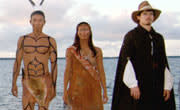 DISCOVER OUTER BANKS

HISTORY
The Outer Banks is steeped in history - from lighthouses, sand dunes, to the mystery of the Roanoke Island colonists' disappearance from Manteo; you can go see the "The Lost Colony", America's longest running outdoor drama.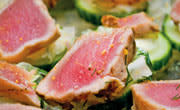 Enjoy some locally caught "Outer Banks Catch" at one of the Outer Banks' 100+ locally-owned restaurants.
Fishing on the Outer Banks can be epic. Explore inshore fishing in the Sounds, off Shore fishing by taking a charter, fish from the beach, or enjoy fishing from the many piers.
It's the Outer Banks, vacation or year round living, you can go outside your comfort zone and try something new. Stand up paddle, ride horses, Fishing, Boating, collect sea glass, or explore the country's first national seashore at Cape Hatteras.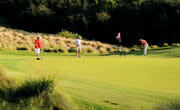 Play golf at one of seven coastal golf courses that the Outer Banks has to offer and soak in maritime forest, Scottish Links style golf, the beauty of the Sounds, and the Atlantic as you play the fairways.
Explore one of the most facinating chapters in the Outer Banks history as you explore The Elizabethan Gardens and enjoy the beauty.